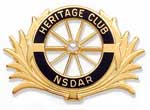 Founded in 1998, Heritage Club includes donors who have made cumulative contributions of $500 or more to NSDAR. Because Daughters are so incredibly generous, DAR has created nine giving levels within Heritage Club to acknowledge that generosity – including a brand new level: Aquamarine!
Gifts made to the National Society for any purpose count toward membership in Heritage Club, including all outright donations, whether designated or undesignated, to any NSDAR fund, no matter what the donation amounts or when they are given.* This includes:
All one-time donations, including those made online, over the phone and through the mail,
All Matching Gift amounts given to NSDAR by the current or former employer of you or your spouse, including payroll deductions,
Your membership can support programs as varied as the President General's Project, the NSDAR General Fund, Guardian Trust Endowment and Pathway of the Patriots, as well as a wide selection of Special Gift Opportunities.
When you become a member of Heritage Club, you can rest assured that we are putting your support to work bringing our mission to life.
*Does not include planned gifts.
Heritage Club Giving Levels
NEW Level: Aquamarine!
The NEW Aquamarine Level has been added to provide another opportunity for us to recognize your ongoing commitment to NSDAR and our mission. Cumulative contributions of $15,000 to $24,999 qualify for this brand new giving level.
Contact Us
Want to see how close you are to the next Heritage Club level? Contact the Office of Development toll free at (800) 449‒1776 during office hours (M-F, 8:30 a.m. – 4 p.m.), or send us an email inquiry anytime at development@dar.org.