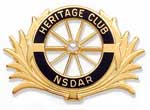 Founded in 1998, Heritage Club includes donors who have made cumulative contributions of $500 or more to NSDAR.  Because Daughters are so incredibly generous, the DAR has created eight giving levels within Heritage Club to acknowledge that generosity – including two new levels that make membership more attainable!
Gifts made to the National Society for any purpose count towards membership in Heritage Club, including all outright donations, whether designated or undesignated, to any NSDAR fund (not including planned gifts).  Your membership can support programs as varied as the President General's Project, Friends of the Library, Friends of Genealogy, Friends of DAR Museum, Friends of Americana Collection, Friends of DAR Schools, Dar Project Patriot, Friends of DAR magazine and Investment Trust Fund.
When you become a member of Heritage Club, you can rest assured that we are putting your support to work bringing our mission to life.
Benefits of Membership
Topaz Level: ($500-$999 cumulative gifts)
The Heritage Club membership certificate and lapel pin
Invitation to a private event hosted by the President General when she visits your state conference
Invitation to special event at Continental Congress
Eligibility to purchase the Heritage Club Topaz pin
Peridot Level: ($1,000-$2,499 cumulative gifts) NEW!
All of the above plus...
Eligibility to purchase the Heritage Club Peridot pin
Amethyst Level: ($2,500-$4,999 cumulative gifts) NEW!
All of the above plus...
Seasonal print depicting the scenes at 1776 D St NW
Eligibility to purchase the Heritage Club Amethyst pin
Pearl Level: ($5,000-$9,999 cumulative gifts)
All of the above plus...
Behind the scenes tour of National Headquarters (not during Continental Congress)
Eligibility to purchase the Heritage Club Pearl pin
Ruby Level: ($10,000-$24,999 cumulative gifts)
All of the above plus...
Special annual State of Organization briefing by an Executive Officer
Eligibility to purchase the Heritage Club Ruby pin 
Emerald Level: ($25,000-$49,999 cumulative gifts)
All of the above plus...
Semi-annual briefing from the President General
Eligibility to purchase the Heritage Club Emerald pin
Sapphire Level: ($50,000-$99,999 cumulative gifts)
All of the above plus...
One-year subscription to the American Spirit magazine for your first year in qualifying level
NSDAR will provide the Heritage Club Sapphire pin
Diamond Level: ($100,000 or more cumulative gifts)
All of the above plus...
Invitations to special DAR events throughout the year such as the Museum exhibition openings
NSDAR will provide the Heritage Club Diamond pin